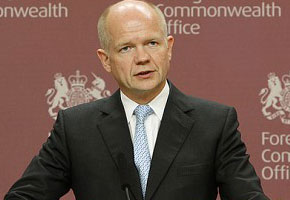 There may be a consolation prize for the approximately 1,300 people not invited to either the royal brunch immediately after the wedding or the evening dinner-dance. The Daily Mail reports that British Foreign Secretary William Hague could host a reception "for the watering and feeding of guests not deemed important enough to attend the Palace celebrations."  The minimum cost for such a do, funded by the taxpayers, is £100,000 ($161,000).
One would think television producers can look at a calendar. Yet plans for the X Factor were in turmoil last night as the show's producers realized one of their audition days falls on April 29, The Sun reports. The O2 Arena is only five miles away from the royal wedding, and not only will contestants have a difficult time arriving at the venue, walkie-talkies won't work. And perhaps most important, air space will be cleared so Simon Cowell cannot make a dramatic helicopter landing.
ChicagoNow has a decent collection of facts about the wedding, some well-known; others less so. For instance, the engagement ring Kate wears, originally worn by William's mother, the late Princess Diana, was chosen by neither Prince Charles nor Diana. It was selected by the Queen. And at age 29, Kate will be the oldest royal bride ever. Perhaps they mean first marriages. Camilla Parker-Bowles was 58 when she married Prince Charles in 2005.
Yet another beer to celebrate the wedding, reports the Maidenhead Advertiser. Brewed by Elgood & Son Ltd, this potion may have the best name yet: Windsor Knot.
More information is becoming available about the royal wedding party accessories one can purchase from Party Pieces, the firm started by Kate's parents, Michael and Carole Middleton. Parcel2go.com says the merchandise will include "corgi-themed cake-toppers, red-white-and-blue bowler hats and teapot-shaped vases."
Read More
Filed Under: