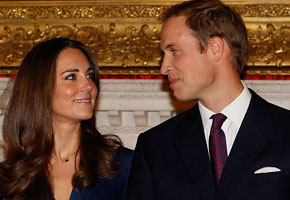 In addition to all the private enterprises cashing-in on Prince William's and Kate Middleton's upcoming marriage, the British government has decided to get in on the action.
For $1,995 per person, Britain's National Tourism Agency is offering the "British Royal Wedding Escape," Sify News reports. The package includes a "private tour of the wedding procession route, private tour of Windsor Castle (claimed to be the Queen Elizabeth's favorite weekend home), bottle of champagne to toast the royal couple, official wedding souvenir gift" and other goodies.
Too rich for your commoner blood? Try "William and Kate's Royal Wedding Walk" for a mere $24.00. The package comes jam-packed with such royal sights as "Mahiki (young Royals' favorite London nightclub), Garrard's Jewellers (Royal Jewellers), offices of Kate's Father Richard Middleton, Jigsaw Clothing Store (Kate has had trouble holding down a job, see where she worked), The Ritz Hotel (favored by Royalty), White's Gentleman's Club (connected to Royals), John Lobb Bootmakers (Prince William's shoemaker), St James's Palace (whose York House is the former home of Prince William), Westminster Abbey" and more.
In other royal news:
– The late Princess Diana's former chef, Darren McGrady, has weighed-in with his prediction of the royal wedding menu: traditional English fare, says People magazine. McGrady also shares the recipe for William's favorite food, Banana Flan. The concoction is not for the faint of heart; ingredients include five egg yolks, two eggs and 3 and 1/2 sticks of butter.
– BBC Royal Correspondent Peter Hunt offers his thoughts on the purpose of royal visits. The first destination for William and Kate is expected to be Canada. Last year, Hunt sat in a New Zealand bar with William, while onlookers held their cell phones aloft, taking pictures. "Was this, I wondered, what it was like to be a prize exhibit in a zoo?"
– The Daily Mirror says William might skip the "jinx room." Technically, the room is the throne room in Buckingham Palace, the traditional locale for official wedding photos. Yet the three most recent royal newlyweds portrayed there have not fared well: Prince Charles and Diana in 1981; Prince Andrew and Sarah Ferguson in 1986; and Princess Anne and Captain Mark Phillips in 1973; were all divorced. There may be another reason William and Kate avoid the room, says a courtier, "William and Kate are also a young, fresh couple and the room is very old-fashioned."
– Kate Middleton wants an apology. Not that Kate Middleton. But another Kate Middleton who lives in Melbourne, Australia, and whose Facebook page was disabled for four days because the social networking site believed she was an imposter.
According to The Toronto Star, the Aussie-born Kate was "furious." Although her service was restored, she wonders, "ust because we'e not marrying the future King of England, does that make us less valuable as people, or give us less right to use social-networking sites?"
A British woman, who also has the same name, was booted off Facebook last month.
– A "new" photo of William and Prince Harry has been released. The black-and-white portrait of the two strapping royals was taken in 2006 by Fergus Greer and was intended to be used for "The Concert for Diana" the following year, Britain's Sky News reports. The photo was recently donated to London's National Portrait Gallery.
Read More
Filed Under: