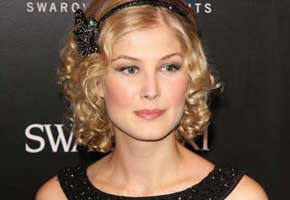 According to Deadline, London-born actress Rosamund Pike is reportedly this close to singing on for Clash of the Titans 2.
The Barney's Version star and former Bond girl — who was speculated to be in the running for Zach Snyder's Superman — will most likely star as Andromeda, a part previously played by Alexa Davalos.
The 2012 fantasy adventure, rumored to be titled Wrath of the Titans, will be helmed by Battle: Los Angeles director Jonathan Liebesman. Sam Worthington, Gemma Arterton, Liam Neeson and Ralph Fiennes are also slated to reprise each of their Clash of the Titans roles. Filming is expected to get underway in March.
For more on Pike, check out Leah Rozen's in-depth interview here.
Read More
Filed Under: