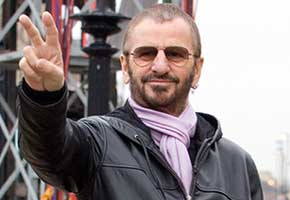 According to The Hollywood Reporter, Ringo Starr is looking to trademark his signature "Ringo" name. There's been some recent chatter across the blogosphere suggesting that the legendary Beatles drummer could possibly introduce a video or mobile product sometime in the near future.
On January 23, the Liverpool-born Richard Starkey filed the necessary paperwork "with the United States Patent and Trademark Office", checking boxes for "computer game software" and "games via the internet and wireless devices". Additionally, columns mentioning the "use in toys, plush toys, stuffed toys and board games" were also included.
Way to go Ringo! You have to wonder what Starr has up his sleeve, especially with the Fab Four already headlining the mega popular Rock Band game. But then again, perhaps Starr has been bitten by the technology bug since he and his bandmate Sir Paul McCartney gave their thumbs up to iTunes last November.
Read More
Filed Under: