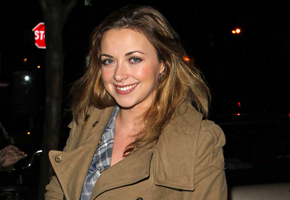 Oh my: Charlotte Church and her two children, Ruby and Dexter, have apparently had a close call with a "faulty boiler" in their new $2 million mansion, The Daily Mail reports. The Welsh opera star had been complaining of headaches for weeks, the British tabloid says. Thank goodness for her quick-thinking grandfather, who advised Charlotte to invest in a carbon monoxide detector. Yikes.
A source told Closer magazine: "She had no idea that the boiler was playing up.
'When she heard the carbon monoxide alarm go off, she called in a plumber, who said her granddad saved her life.
"She is probably lucky that the house is so big and airy and the boiler is a long way from the living areas.
"But she knows she's had a lucky escape."
In one of Anglophenia's Top 5 British Celebrity Breakups of 2010, Church, who is 24, split from her longtime partner, rugby player Gavin Henson, last May. He is the father of her two kids.
Read More
Filed Under: