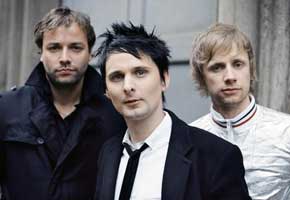 Fresh from their Best British Band win at the Shockwaves NME Awards last week, Muse is readying for a future return to the studio.
When speaking with BBC Radio 6, following their Best Rock Album Grammy for 2009's The Resistance, the English alt-rock trio announced that they'll set up shop in London.
"We're all moving to London soon, which will be the first time we've all lived in the same place for about 12 years," bassist Chris Wolstenholme revealed.
Kate Hudson's baby daddy, frontman Matt Bellamy, also stated: "We've never made a full album in London, we've just done a few bits, so it'll be great to do it there. It also means we can do it over a longer period as we'll be based there."
Before reconvening in the studio later this year, Muse will hit the road this spring and summer for some "casual touring." During March and April, they'll open for U2 in South America, while stops in Russia and Athens, Greece could follow in May. Here's hoping the band hasn't forgotten about their ambitious idea to rock out in space.
Read More
Filed Under: