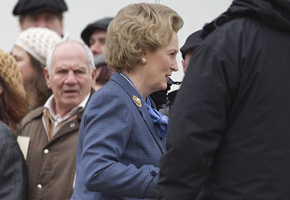 Is Former UK Prime Minister Margaret Thatcher a superhero? (The new film about her is called The Iron Lady after all.) Fans may be eagerly consuming each new photo or magazine cover of Andrew Garfield's Spidey or Henry Cavill's Superman, but Meryl Streep's transformation into the controversial 1980s figure is drawing equal interest, impressive for a 61-year-old actress playing a non-comic book character.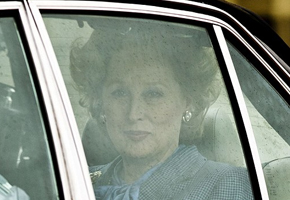 The first official photo of Streep as Thatcher was feted and discussed all over the Internet, but now paparazzi have tracked down the film's set in South London, snapping new shots of the two-time Oscar winner. The latest shots reveal Thatcher (Streep) confronting a band of '80s protesters angry about Britain's then-economic crisis, unemployment, and new poll tax. The Daily Mail writes, "Meryl appears to have inhabited her character so fully, she even has the former premier's jawline.
"The 61-year-old's stage make-up, clothes and hair obviously helps to cosmetically make the Devil Wears Prada star look like the greengrocer's daughter, but Streep seems so immersed in the part she's physically changed to look like the Baroness."
More shots, including one of Peep Show star Olivia Colman as Margaret's daughter Carol, over at The Daily Mail. What do you think of Streep as Thatcher thus far? Are you becoming more excited for the movie?
Read More
Filed Under: