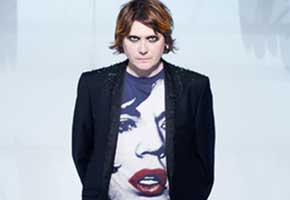 When it comes to collecting things, what do you obsess over? I know some of you out there go mad for Doctor Who goodies. I, for one, am totally proud of my rare lot of Smiths singles. But for Manic Street Preachers's Nicky Wire, he cannot get enough of "hotel stationery," The Metro reports.
"I'm a big hotel stationery freak – I've got some of the best hotel stationery in the world," Wire recently told Absolute Radio.
Hey, there are worse things to be a "freak" about, but the lanky 42-year-old bassman also revealed his unwavering fascination with the UK singles and album charts. "I get extremely excited by stuff like that, radio playlists, you know. I grew up with the Guinness Book Of Hit Singles, so it has never left me," he explained.
But sometimes, such a habit can drive him batty. He was especially "gutted" when "Some Kind of Nothingness", the Welsh trio's second single from last year's Postcards From a Young Man LP, missed the UK Top 40 by a measly four slots.
"It's like waiting for that envelope to drop through the door and see you've got a D in geography," Wire said.
Fingers crossed that the fantastic title track from Postcards From a Young Man will fare much better when it's released on February 28.
Here's some classic Manics for your Friday afternoon, the 1998 No. 1 UK hit "If You Tolerate This Your Children Will Be Next":
Read More
Filed Under: