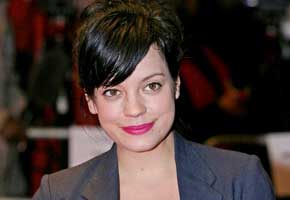 Strictly Come Dancing judge Alesha Dixon has apparently been doing some brainstorming over who might bring some fresh perspective to the celebrated British dance competition next season. And one celebrity that she'd personally like to see on the critics panel is English pop singer-turned-fashion maven Lily Allen.
"Lily would be great on the Strictly panel," Dixon told The Daily Star. "She's said before she loves it and I think she'd be a brilliant judge."
Allen certainly has her hands full these days. Having recently launched her In the Name Of record label, Allen is keeping busy with planning her forthcoming nuptials to longtime beau Sam Cooper, while overseeing her Lucy In Disguise fashion line. Perhaps Allen will take to Twitter to share her thoughts on the Strictly matter?
Strictly Come Dancing, whose eleventh season concluded last November, is judged by the likes of Dixon, Len Goodman, Bruno Tonioli and Craig Revel Horwood. Both Goodman and Tonioli also appear on the show's U.S. counterpart, the mega-popular Dancing with the Stars, on ABC.
Read More
Filed Under: