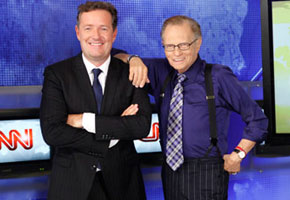 Larry King thinks that Piers Morgan, the British journalist who replaced him in CNN's primetime lineup, is "a fine broadcaster" and "an acceptable host." But he can't leave it at that, it seems.
King told BBC Radio 4 (via BBC News): "I don't want to be horrible about him, I think he's a fine broadcaster," but added that he thought Piers Morgan Tonight was a bit overhyped.
"I think one of the problems they did was over sell it," King told radio host Eddie Mair. "He was going to be dangerous, he was going to be water cooler talk…
"He's good but not that dangerous. I think they might have been better off starting quietly and that's not Piers' fault, or maybe it is, I'm not inside anymore.
"He's certainly not bad. He's certainly an acceptable host. He asks good questions, maybe he interrupts a little too much at times. I think he may have been oversold."
This morning, Sir Alan Sugar, the "Donald Trump" of the British Apprentice, tweeted his reaction to Larry's comments at Piers Morgan: "[W]ith friends like Larry King you don't need enemies. I'm a pussy cat compared to this." To which Morgan responded: "Larry King remains one of my heroes, Shugs, so he can say whatever he likes. You, however…."
Ratings for Piers Morgan Tonight have tumbled since the show's January 17 premiere episode featuring Oprah Winfrey, which scored 2.1 million viewers and 521,000 in the demo, placing it in second place to Fox News' Hannity show. On February 16, the show had slumped to 526,000 total viewers and 152,000 in the 25-54 demo, putting it behind both Hannity and MSNBC's Rachel Maddow Show.
Read More
Filed Under: