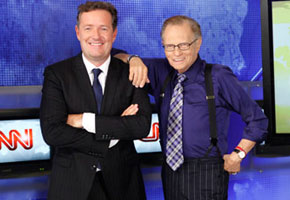 In spite of all of the coverage of Libya's crisis, CNN still managed to air that Wrestlemania match between British host Piers Morgan and his primetime predecessor Larry King last night (February 23).
Last week, King slammed Morgan as "oversold" and "not dangerous" on BBC Radio 4. CNN later announced that King would be a guest on Morgan's show, setting tongues a-wagging all over Twitter.
In last night's interview on Piers Morgan Tonight, Morgan erred on the side of fawning obsequiousness, claiming that replacing Larry King is like "following Frank Sinatra in Vegas." But, in spite of Morgan's easygoing charm, Larry King did not back down on his criticisms of the British journalist. And in the first time in my 20-plus years of watching Mr. King, the man came off as tough. Maybe even a little gangsta.
Larry King: "Were you being facetious when you said you were dangerous? Was that an attempt at British humor?"
Piers Morgan: "How many shows of mine have you watched?"
Larry King: "About eight. I haven't seen you dangerous yet!"
When Morgan later admitted he was kidding around with the "dangerous" label, King said, "I'm from Brooklyn. If you say you're dangerous, you betta be dangerous."
Biggie Smalls would be proud. Watch the interview segment:
Read More
Filed Under: