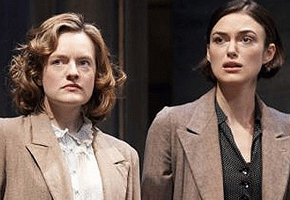 Whenever a star of the big screen deigns to tread the boards of the stage, critics sharpen up their knives. (Remember the reviews for Julia Roberts' Broadway debut?) British film gamine Keira Knightley has been-there, done-that: her West End debut in 2009's The Misanthrope won her an Olivier nomination. But the performance earned her only glancing respect from the unconvinced theaterati, who offered Keira only mixed notices.
Today, BBC News highlights today's (February 10) opening reviews  of her big return to the London stage in Lillian Hellman's 1934 play The Children's Hour, co-starring American Mad Men actress Elisabeth Moss. Hour depicts the story of two female friends who run a girl's school and find their lives upended when a vengeful student accuses them of having a secret lesbian affair. Knightley portrays Karen, the role played by Audrey Hepburn in the 1961 film adaptation, and Moss plays Martha, the sexually conflicted teacher that Shirley MacLaine inhabited in the same film.
BBC News' own arts reporter, Neil Smith, gives Knightley measured praise: "Knightley's American accent might not have made it all the way across the Atlantic and she seemed self-conscious on occasion.
"Yet this remains an accomplished, committed and ultimately moving performance that will win her both kudos and respect."
The Evening Standard's Henry Hitchings writes: "[Knightley] makes a strong impression. Some will question the consistency of the accent she adopts, but there is no denying the darkness of her performance and her ability to convey an intriguingly brittle sort of charisma."
The Daily Telegraph's Charles Spencer previously saw Knightley in The Misanthrope, says she "seemed strained and nervous" in that earlier production. But in The Children's Hour, he writes that she gives "a performance…which displays confidence throughout before rising in the final act to dramatic heights that are shattering in their intensity and deeply affecting."
The Stage's Mark Shenton writes that Keira is "a revelation, going to a far darker, more intense place than she was called to in her debut play The Misanthrope."
The Guardian's Michael Billington calls the "cipher" role of Karen "challenging" but says Knightley acquits herself well. "[S]he is excellent in her climactic encounter with her fiance, well played by Tobias Menzies, when her lean, elegant frame suddenly seems rigid with physical anguish. And, when she claims 'everything I say to you is made to mean something else,' Knightley radiates a lonely despair."
The Daily Mail's Quentin Letts provides Keira with her most notable pan in a piece titled "Splendid show but Keira's more a movie pin-up than a stage star." He goes on: "Miss Knightley's role demands raw self-evisceration. That is what a great actress would bring to it. Miss Knightley tries. By God, she tries. She turns in a performance of which many a journeywoman thesp' would be proud. But is she a real leading lady? Is she a genuine stage star? Not quite."
Letts adds that Knightley is beautiful and does well in scenes with a lot of action, but he concludes that her physical presence is lacking: "She keeps pushing her jaw forward, flaring her nostrils and opening her mouth. She uses this to try to portray shock and despair but it's more dead fish on the slab. There is little limb work. I have seldom seen a less expressive pair of shoulders."
Moss, Menzies, and co-star Ellen Burstyn all received strong reviews, but the greatest raves went to Bryony Hannah, who plays the vicious young student who causes all of the chaos. Letts calls Hannah a "fantastic find," writing that she provides "a performance of darting, furtive, fiendish malevolence…She has that native fizz, that crackle every time she enters."
Read More
Filed Under: