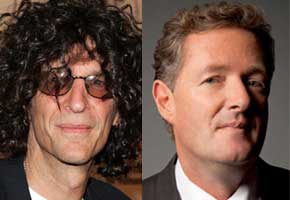 Could Piers Morgan be getting a little too big for his britches? Howard Stern seems to think so. The American shock jock took to his Sirius satellite radio show on Tuesday (February 1) to voice his disdain for the British journalist's supposed big-headed behavior since taking over Larry King's former CNN slot.
Between slagging off Morgan's dwindling ratings and how boring Morgan's show format is, Stern maintained that Morgan is in "a weird competition" with him. But what really got his goat was an "offer" Morgan recently made for Stern to appear on Piers Morgan Tonight "once a month." Check out the audio below, as heard via Perez Hilton:
We thought these guys were pals? Stern was just a guest on Piers Morgan Tonight last month. Not surprisingly, Morgan later took to Twitter to sling a few statements back in Stern's direction.
"Come on Mr Stern, this is really poor stuff this morning, you can whack me better than this can't you? Raise your game Hairy Beast," Morgan tweeted.
He added: "Someone just warned me 'not to rattle Howard's cage'. Why? What's he going to do, strangle me with his hair on Monday? #aintnohannibellecter"
Morgan is apparently going to visit Stern's show next Monday (February 7) to duke it out. This should be highly entertaining to say the least, as Morgan promised to "rip him a new one." Hey either way, such publicity can only heighten Morgan's profile here in the U.S. Right? We certainly hope so.
Who are you rooting for? Piers or Howard?
Read More
Filed Under: