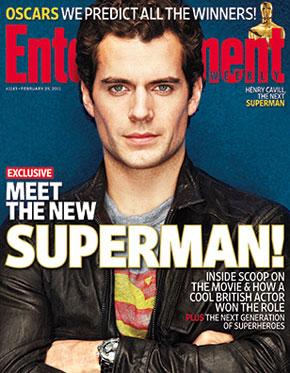 Amongst all the media chatter about the British actor playing Superman, one person has remained mum, and that's the man himself, Henry Cavill. Well, the Tudors star has broken his silence in a big way: he's featured on the cover of this week's Entertainment Weekly, donning a leather jacket over a battered Superman T-shirt. Inside, he opens up about his audition for the role, in which he had to wear the Man of Steel's spandex suit and shoot a screen test in front of director Zack Snyder (300).
According to EW, "Cavill was feeling less than super in the moment, at least about his ability to fill out the costume: He had just finished shooting a film with Bruce Willis called The Cold Light of Day, and the part required to him to shed the impressive abs of steel and muscle tone he had put on for the movie he made right before that, the forthcoming mythic fantasy Immortals.
"As an assistant helped to him put on the Super-suit, Cavill recalls: 'All I could think was: Oh, god. They're going to look at me and go 'He's not Superman. Not a chance.' The actor inside me was going: 'You're not ready! You're not ready."'
"Snyder saw something — or rather someone — different. 'He walked out, and no one laughed,' says the director. 'Other actors put that suit on, and it's a joke, even if they're great actors. Henry put it on, and he exuded this kind of crazy-calm confidence that just made me go "Wow. Okay: This was Superman."'
Indeed.
Read More
Filed Under: