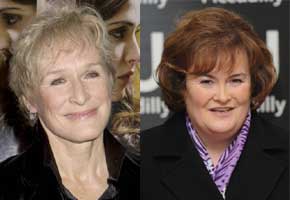 One cannot forget Susan Boyle's extraordinary audition on Britain's Got Talent in April 2009. Her jaw-dropping performance of "I Dreamed a Dream" has made her one of the world's most beloved stars. And now, after years of never-ending rumors, a film about her rags-to-riches rise is finally in the works.
According to The Sun, five-time Oscar-nominated actress Glenn Close has signed on to portray the best-selling Scottish songstress.
"The film is full steam ahead now the leading role is sorted," a source revealed. "It was always going to be a tricky one to cast."
It's being said that those involved with the film "wanted a big Hollywood name for the role." But Boyle was hopeful that a Scottish actress might be considered, and apparently had her eye on Glasgow-born comedienne Elaine C. Smith. Smith is best known for playing Mary "Mary Doll" Nesbitt on the BBC sitcom, Rab C. Nesbitt.
What do you think about Glenn Close playing Susan Boyle?
Read More
Filed Under: