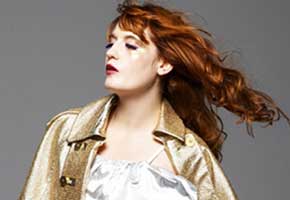 Hot off her Grammys performance and her recent addition 2011 Bonnaroo lineup, it seems that album No.2 for Florence and the Machine is already underway.
"Work on the second album has begun with Paul Epworth and there is talk of booking out Abbey Road for a month in April/May to record. Which is nice," guitarist Rob Ackroyd told Gibson.com.
Fabulous news! We cannot wait! Last April, Flo divulged to BBC Newsbeat that some of the new material taking shape would be "moving away from the gothic horror" of her brilliant 2009 debut, Lungs and heading "toward something that's slightly more chemical." A studio version of "Strangeness and Charm" — the live performance from Hammersmith Apollo is on the 2010 special edition reissue, Between Two Lungs — is rumored to be included.
Don't forget, Florence will be performing at the 83rd Academy Awards on Sunday, February 27.
Read More
Filed Under: