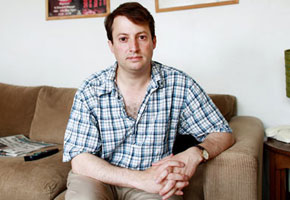 Leave it to David Mitchell, star of Peep Show and That Mitchell and Webb Look, to give his own humorously cantankerous but thoughtful take on things. His target this week: Britain's monopoly on America's leading superhero roles. In his latest column for The Guardian, Mitchell suggests that, within the context of our China-led global economy, there's little difference between a British and an American actor playing Superman.
"The important demographic, our future Asian paymasters, neither care about nor discern the difference between Britons and Americans," he writes "If [Henry] Cavill's American accent's a bit shaky, they won't give a damn. We're all just impecunious round-eyes, shaking a tail feather in front of a green screen – trying to make a quick yuan to set against our astronomical debt."
He adds: "The British are the new Canadians. We're not taking over American culture, we're being absorbed by it, and at the very moment when its influence is starting to wane. We're infiltrating a dying empire, like the Scots did when they took over Westminster politics."
Mitchell clearly doesn't have a high opinion of superhero films, deeming them "deeply silly," with lead roles that are "relentlessly two-dimensional." He claims that British stars would be better off sticking to the stereotypically villainous "Accent of Evil" roles that have become an action-movie staple. "It may not get the big money, but it's steady work and the villains in Hollywood superhero films are fairly similar to the heroes of British popular culture," Mitchell says. He lists Sherlock Holmes, Hercule Poirot, literary criminal A.J. Raffles, and Doctor Who's Doctor as Brit-based protagonists who "have far too many ambiguities and nuances to be Marvel comic goodies."
Do you agree with David Mitchell? Are superhero roles worthy parts for British actors?
Read More
Filed Under: