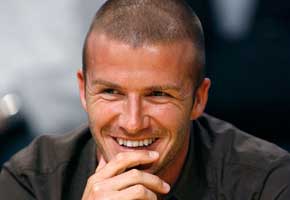 David Beckham's libel suit against In Touch Magazine, which claimed the multi-millionaire footballer had cheated on his wife Victoria with a prostitute, has been dismissed in U.S. court, BBC Newsbeat reports. The judge ruled that the publication didn't act maliciously in reporting the story. Beckham's lawyer says he will appeal.
The BBC Newsbeat story notes the differences between defamation laws in the States and across the pond.  "Libel laws in Britain are much stricter and it's harder for the media to say exactly what they want. But in America freedom of speech is one of the country's most basic constitutional rights. It's safeguarded in the first amendment and, therefore, newspapers and magazines have more room to voice their opinions and stories without objection."
David and Victoria looked stylish and undeterred by the court decision yesterday (February 14) as they stepped out for their first Valentine's Day date in seven years, according to The Sun. The couple are expecting their fourth child this summer.
Read More
Filed Under: