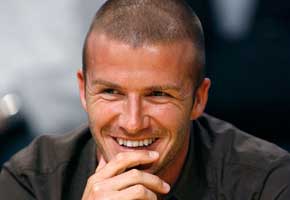 Earlier this week, Paul Long was driving his children to school when his gray Nissan Primera broke down in the midst of heavy traffic in Ware, Hertfordshire, which is about 22 miles outside of London. Before he could gather his thoughts on what to do next, The Sun reports that English football legend David Beckham stepped in to lend a helping hand.
"We had been there for ten minutes. I couldn't do anything – cars were whizzing past," Long said.
Eventually an Audi pulled up ahead of them. Within a matter of seconds, Long was chatting with Beckham, who immediately inquired if everyone was alright. "I wound the window down and said, 'You're David Beckham!' His next words were, 'Are you OK?'"
From there, Becks and another male helped Long push his car to the side of the road. No autographs or pictures were taken, for Long confessed during a phone call to BBC News that he and his kids were just too mesmerized by the experience. Asking for such a thing in that moment might have been a bit inappropriate.
"I said, 'Thank you David. I love you!' [My kids] were awestruck. I think we all were."
That David Beckham, what a nice guy!
Read More
Filed Under: