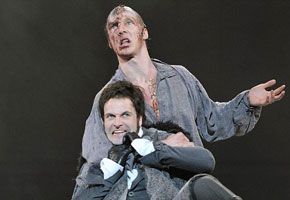 Danny Boyle's Frankenstein officially opened at London's National Theatre this week and so far, the reviews are mighty promising.
The Guardian called it "a humane, intelligent retelling of the original story in which much of the focus is on the plight of the obsessive scientist's sad creation."
The Daily Independent also applauded Benedict Cumberbatch and Jonny Lee Miller's alternating performances as Victor Frankenstein and the Creature. "The role-reversal makes deep thematic sense because it highlights the irony whereby the son becomes the father, the slave the master. Broadly speaking, Cumberbatch emphasizes the intellectual edge of both roles; Lee Miller takes us further into the feeling."
For those U.S. fans who were unable to venture overseas to catch writer Nick Dear's adaptation of Mary Shelley's prized gothic novel come to life, don't fret! The National Theatre has announced that screenings of Frankenstein will be broadcast in select movie theaters on two separate dates next month.
March 17: Benedict Cumberbatch as the Creature, Jonny Lee Miller as Victor
March 24: Jonny Lee Miller as the Creature, Benedict Cumberbatch as Victor
Check out the National Theatre's official site to see if Frankenstein will be shown in your city.
Read More
Filed Under: