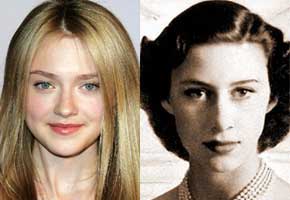 In the Oscar-nominated drama The King's Speech, moviegoers learned more about Britain's King George VI and the challenges he publicly faced as a result of having a stutter. Now it seems that we're going to get to know his two daughters, Queen Elizabeth and Princess Margaret, in Girls' Night Out.
According to The Guardian (via Variety), Twilight star Dakota Fanning has signed on to play the Queen's younger sister and the period film will focus on a "weekend in which the two royals were allowed out of Buckingham Palace to celebrate the end of the second world war alongside the rest of the country in 1945."
Who will play Her Majesty has yet to be determined. Michael Hoffman, who's set to direct King's Speech Oscar nominee Colin Firth in 2012's Gambit remake, will be at the helm of Girls' Night Out.
Read More
Filed Under: