How can William and Kate make that most personal of wedding moments, the exchanging of vows, their own? In this week's installment of the Brides Checklist, Brides Magazine deputy editor Sally Kilbridge suggests a few subtle ways.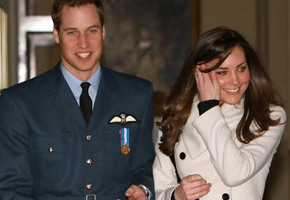 Time to talk about the ceremony. While much of a British royal wedding is determined by protocol, Will and Kate want their day be a celebration of their love, not just a state occasion. So first up this week, they should discuss just how to put their own stamp on what happens inside the abbey.
There's not much the couple can do to personalize the Church of England vows, aside from deciding whether Kate will promise to "obey" her spouse. (Not that it seems to have much impact on the ultimate success of a marriage: Diana didn't promise to obey; Fergie did.) We're betting the couple will choose to take an egalitarian approach — stay tuned.
But while we don't anticipate any self-written vows, the couple can get a little creative with the readings. In additional to biblical passages, they could choose a poem or a quotation from a book — just don't expect some whimsical musing from The Velveteen Rabbit. Shakespeare, Browning, and Thomas Hardy are top choices at Anglican weddings. The latter's Far From the Madding Crowd seems particularly apt for this egalitarian pair: "Paths are joined, one path with two people walking it, both going in the same direction, and sharing each other's journey." That's a sentiment that even the protocol police would have a hard time arguing with.
What might Kate Middleton wear to her wedding? For some clues, head over to brides.com.
See last week's checklist: Cake tasting.
Read More
Filed Under: