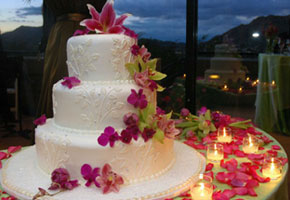 Wedding planning can be both anxiety-inducing and mind-numbingly boring. Amidst the drudgery of organizing guest lists and mailing invitations, cake tasting is the fun part.
In the third edition of her checklist, Brides Magazine deputy editor Sally Kilbridge suggests that Prince William and Kate Middleton take a load off and indulge their sweet tooth this week.
Sometime this week Will and Kate should set aside an hour for one of the most enjoyable tasks of wedding planning: cake tasting. This "chore" wasn't even an option a generation ago, when every British couple, royal or not, would slice into an elaborately iced fruitcake. Some of them were undoubtedly delicious (well, maybe not) but regardless, brides today are saying the heck with tradition and are serving cakes that suit their personal taste. While it's likely that the royal twosome will choose a traditional design — towering white tiers, sugar flowers, a grand monogram — what's inside is anyone's guess.
The couple might treat their guests to an elegant combo like white-almond cake with strawberry mousse filling. Or perhaps they'll opt for an edgier pairing such as chai cake with honey ginger cream. But we hope they go for the gusto: German chocolate cake — Wills is reportedly a big chocolate fan — layered with something decadent like toffee crunch.
A cake tasting isn't mandatory, of course, but it's fun. And what engaged couple, especially when they've got the wedding of the century on their hands, couldn't use a bit of that?
For a gallery of cakes worthy of royalty, go to brides.com/cakes.
See last week's checklist: Kate's hair and makeup

Read More
Filed Under: