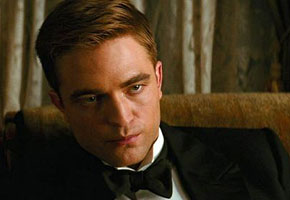 In Frances Lawrence's forthcoming adaptation of Sara Gruen's best-selling novel of the same title, Water for Elephants, Robert Pattinson leaves his vampire ways behind for a traveling circus.
Set in the early days of the Great Depression, Pattinson portrays the younger Jacob, an aspiring veterinarian who ends up a caretaker for circus animals in the Benzini Brothers Most Spectacular Show on Earth. He meets a lovely equestrian and the star of the show, Marlena, as played by Academy Award-winning actress Reese Witherspoon. As you can see in the trailer below, Pattinson's character only has eyes for Marlena, and a love triangle seems to come to life as Marlena's controlling yet charming ringleader husband August, played by Oscar winner Christoph Waltz (Inglorious Basterds), takes notice. Looks positively fantastic, doesn't it? Thanks to The Metro for pointing this out.
Other UK actors such as James Frain (True Blood, The Tudors) and Richard Brake (Batman Begins, Cold Mountain) also star.
Water for Elephants opens in the U.S. on April 15
Read More
Filed Under: