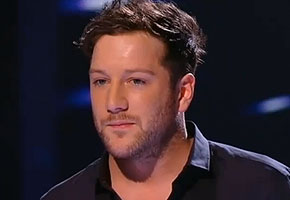 A long time ago, the idea that the British Christmas No. 1 was a matter of any importance whatsoever was laughable. Yes, people threw festive songs out there – Slade, The Pogues, Cliff Richard – but there wasn't the same intense focus on the one chart week, and getting the top spot certainly wasn't considered to be something spiritually pure or worth defending from the evil tentacles of commerce.
But this all changed as soon as the reality TV talent shows put a flag on the festive chart-topper and claimed it as their own, therefore making it unlikely that anyone would ever make it to the top without artificial help from the people on the telly. Well that was a step too far! A civil liberty thwarted! A freedom removed!
Last year, shouty rock warriors Rage Against The Machine were brought in to do battle with squeaky little X Factor winner Joe McElderry, and they won. This year, the warring sides are less easy to define.
The winning contestant on the show is Matt Cardle, a man who has sung beautifully on the show, but has also had some throat problems. His version of Biffy Clyro's "Many of Horror" has been renamed "When We Collide," and struggles to be as good as the original.
The original got to No. 20 earlier this year. But then, Biffy didn't have the momentum of Simon Cowell's X Factor behind them.
Standing against Mr. Cardle and Mr. Cowell are the combined Facebook campaigners of doom. On the one hand, a coalition of people who believe "Surfin' Bird" by The Trashmen to be the perfect slamdown, on the other, a coalition of famous musicians making very little noise indeed, on purpose.
They're called Cage Against The Machine and they include among their ranks the likes of Billy Bragg, Gallows, The Kooks, Mr Hudson, Suggs and Chas from Madness and Crystal Fighters. Their song is a cover version of John Cage's immortal 'silent' classic "4'33", which is effectively the sound of the room in which a recording is made.
Which means the anti-X Factor campaign is no longer attempting to beat music with music – which happened to a certain extent with the Rage Against The Machine thing – but tackling the invasion of this hallowed turf with a gesture that says "we don't want this" without having to worry about the personal tastes of the people buying the song. It's a direct vote against the show.
Trouble is, if they win the vote, it won't stop the show.
Meanwhile, George Michael has a Christmas single out, as does Rumer, and N-Dubz (although theirs isn't about Christmas, it's about girls). These releases are a true return to the good old days, in that no-one really cares if they get to No. 1 or not.
Read More