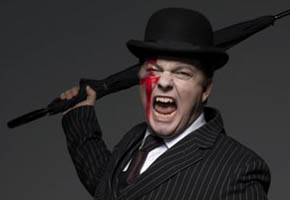 In this week's Tellyvangelist — your weekly guide to all that's British on U.S. TV — hear the not-so-little Emily Blunt talk about playing a Lilliputian, get a double helping of Annie Lennox's Christmas album, and have a laugh at Ricky Gervais in his brand new comedy special!
All times are in EST and are subject to change.
Monday, December 13
Funnyman Ricky Gervais will be on The Late Show with David Letterman tonight as the first stop on his promotional tour for his stand-up special Ricky Gervais: Out of England 2 which will premiere on HBO later this week.
Tuesday, December 14
Regis and Kelly are getting two very special gifts on their show today as Annie Lennox shares her new Christmas album, A Christmas Cornucopia, and Ricky Gervais appears to continue promoting his upcoming comedy special.
Brit rocker David Gray can be found playing songs from his latest album Foundling on The Ellen DeGeneres Show today.
Wednesday, December 15
Emily Blunt will set sail for American shores so she can tell Jay Leno all about her role in the upcoming Gulliver's Travels. In the highly anticipated 3D film, Blunt plays a Lilliputian princess, with Catherine Tate and Billy Connolly as her royal parents. Watch the trailer.
Conan will get to hear all about Pink Floyd frontman Roger Waters' latest, and possibly last, tour, The Wall Live. Don't worry, Waters isn't going quietly; the tour reportedly cost over $60 million to stage and includes giant puppets and fireworks in addition to the show's trademark laser show.
Annie Lennox will continue to spread her Christmas cheer (and album) with an appearance on Late Night with Jimmy Fallon.
British actor Colin Lawrence will guest star on tonight's episode of Human Target (FOX, 9pm). Lawrence is best known for playing Lt. Hamish 'Skulls' McCall on Battlestar Galactica.
Thursday, December 16
The Late Show with David Letterman will feature a performance from Florence and the Machine tonight. Her eventful 2010 has included a performance at the MTV Video Music Awards, winning a BRIT Award, and a recently announced Grammy nomination.
Friday, December 17
Emily Blunt will complete her coast-to-coast journey to promote Gulliver's Travels with an appearance on Live with Regis and Kelly.
The Gulliver's Travels cast is really getting around! Craig Ferguson will welcome fellow Scotsman Billy Connolly onto his show to talk about his role as a miniscule monarch.
Saturday, December 18
The highly-anticipated stand-up special Ricky Gervais: Out of England 2 will premiere tonight on HBO at 10. And judging by this promo, Gervais will be pulling out all the stops.
Sunday, December 19
BBC America continues its month-long celebration of the Beatles tonight at 7:30 with a special presentation of the 1988 documentary Imagine: John Lennon, which includes home videos narrated by the musician himself.
What are you watching this week?
Read More
Filed Under: