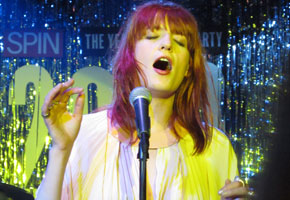 There's no denying that 2010 was the year of Florence. Anglophenia christened Florence and the Machine our British Breakout Act of 2010, and music bible Spin Magazine just named her one of their artists of the year.  Florence was the headlining act at Spin's Year in Music party, which was held Wednesday night (December 15) at the cramped Don Hill's bar in New York City. Seemingly all of the hip downtown denizens turned out to pay tribute to England's pop princess.
Love for Florence's ethereal, almost baroque sound has steadily grown in America, starting as early as 2008, creeping up from the blogs and Pitchfork all the way to the MTV VMAs and Dancing with the Stars. Many of her American fans, myself included, watched her become a star in the UK and waited impatiently for her debut album Lungs to make an impact stateside. However, now that Florence is a Grammy nominee and has been covered by Glee, there are fears that she might become simply too big. Steve Kandell, music editor for Spin, has no such misgivings about Florence's rise to stardom.
"At this point, the record came out almost two years ago," he said. "The fact is that people are just catching on to it later. A year ago, people weren't worried about whether or not she was becoming too mainstream, and it's the same record.
"I'm sure all she wanted to do is go somewhere and sleep for the past year, but [her success] keeps on snowballing and you don't want to stop it. Because you don't know if it's going to come back again."
In a year that also saw fellow Brits Taio Cruz and Mumford and Sons break through in the U.S., Florence stands apart as an artist who wears her Britishness on her elegantly flowing sleeves. "She has that sort of Kate Bush idea of running through the woods in some diaphanous gown, and it just seems very English," says Kandell.
It's certainly been a while since a defiantly British artist crossed over here. "The last band that did well in the U.S. that felt distinctly British was the Arctic Monkeys," Kandell notes. "They felt very British in a way Blur or The Kinks might have at one point."
Amy Winehouse, in spite of her nods to American soul and hip-hop, also felt distinctly British, and her Grammy-winning success and subsequent flameout provide Florence with a handy guide to the pitfalls of fame.
"You only get so many chances with this stuff," says Kandell about Ms. Winehouse. (Kandell, notably, conducted the infamous Spin interview with her back in 2007.) "People's attention spans are short, and windows close. She's already become more of a punchline than she ever was an artist, and that's a shame because she's pretty brilliant. She's going to have to work pretty hard to get back to where she was and make everyone forget about all of the baggage that came with it. That's a big mountain to climb."
While fêting Florence, Spin is also looking toward 2011's new British acts. "We're already talking about bands for next year. England's always very aggressive about touting bands and hyping them up. There's already Esben and the Witch on Matador and few other bands who are already on our radar."
Esben and the Witch have been drumming up a great deal of buzz in recent months, and Kandell says it's all justified. "They're great. A darker version of the Florence/Kate Bush type thing." James Blake and The Vaccines are also UK acts he says to keep an eye out for.
But will any of them be the next Florence and the Machine? Kandell is dubious. "It's always funny that so many bands that get hyped up over there don't make it over here. A couple years ago there was this garage rock revival when every single band that was coming up was the savior of whatever."
Perhaps the most promising prospect of 2011 is seeing what Florence will do for a second act….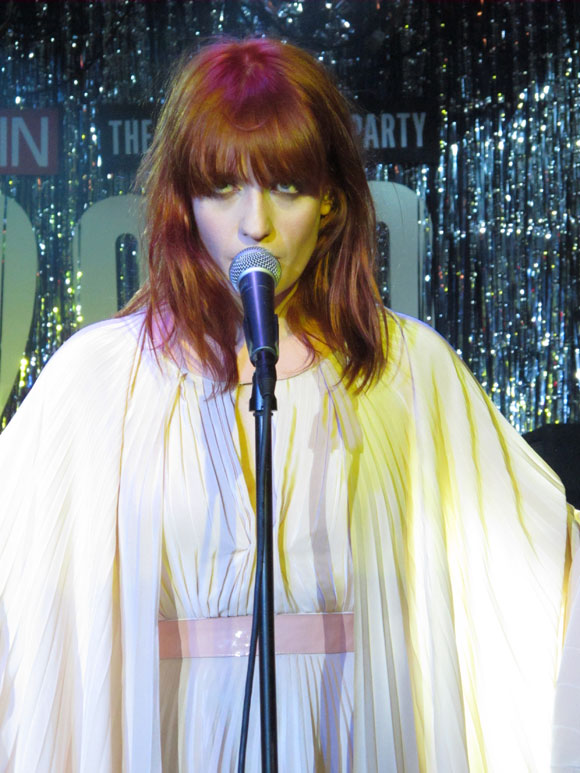 Read More
Filed Under: