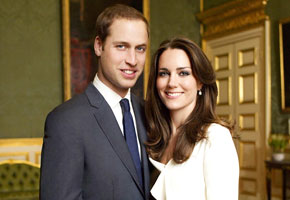 When Prince William and Kate Middleton tie the knot in April, don't assume that the gorgeous pair will instantly set off into some romantic fairytale complete with cooks, butlers, and other servants.
While his father, Prince Charles, employs a 149-person crew to attend to his and Camilla's daily wishes, the Prince and Kate have said that they'll be doing everything on their own: the cooking, the cleaning and the grocery shopping. Eat your heart out, Dad!
According to The Daily Telegraph, William and Kate both "believe that sharing their home with servants would ruin the intimacy of their relationship."
Once married, the newlyweds will continue living in their private four-bedroom cottage in Anglesey, North Wales, where they will have around-the-clock bodyguards. Aside from that, they'll live like the rest of us as Wills carries out his Royal Air Force responsibilities through 2013.
"It's very much their instinct to manage on their own," said a senior royal source. "They want to do their duty and make sure they are a real asset to the country but they are private individuals who want to get on with their lives."
But one particular Queen has some friendly words of wisdom for the future Queen of England: Queen Latifah. The American rap maven and award-winning actress recently spoke with Parade magazine where she offered her own tips for success and happiness. Listen up, Kate.
"Make sure you have a sanctuary, because everybody in the world is going to be in your business," she said. "He happened to be born a prince; you happened to go to college and meet him. You're two kids who fell in love. I just hope you have a happy life. And don't take anything personally."
Woo hoo! All Hail the Queen!
Read More
Filed Under: