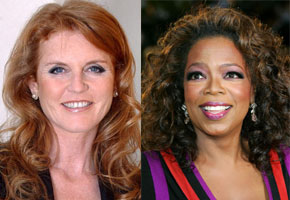 American chat show queen Oprah Winfrey is pointing her finger at Sarah Ferguson for her dodgy spending habits.
Earlier this spring, the Duchess of York was caught on tape offering full access to her ex-husband, Prince Andrew, in exchange for "$723,000 (£500,000)". She later went on Winfrey's show to discuss that very embarrassing moment and how she's millions of dollars in debt. Hey, she didn't land at the top of our Most Cringe-Worthy UK Celebrity Moments of 2010 list for nothing.
But Fergie has apparently found a kindred spirit in Ms. Oprah. In an interview with Parade magazine, Winfrey divulged that she and the Duchess connected upon Ferguson coming clean about her previous act of desperation. So much in fact that Winfrey is bringing her to The Oprah Winfrey Network (OWN) for Finding Sarah. The six-part documentary will focus on Ferguson getting her financial life and spiritual self back on track.
"We had a moment of real connection, watching the tape of her trying to get £500,000 [for access to Prince Andrew]," Winfrey stated. "She said she didn't want to go into bankruptcy. I said, 'But when you look at that tape, don't you see a morally bankrupted person? The one thing you were trying to avoid, you already are.' She said, 'I never thought of it that way before'."
After the interview, the two stayed in touch with Fergie asking Winfrey for financial advice via email. And Winfrey quickly advised her to stay away from big-cash opportunities like Dancing with the Stars. But when she suggested the idea for a show on OWN, Ferguson was a little hesitant at first.
"[She said] let me think about it. I'd have to expose myself, and what does that really mean?" Winfrey explained… "Like, she sent me an e-mail about how it's so difficult to give up going to Spain this year. And I said, 'You have no money. People who don't have money don't go to Spain on holiday. Hello!"
Finding Sarah is slated to premiere in the spring.
Read More
Filed Under: