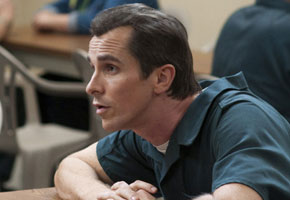 Hope all you Oscar prognosticators are keeping good notes. Just Tuesday, the Golden Globe nominations were announced, and today (December 16), the Screen Actors Guild issued its shortlists for their annual film and TV awards. The King's Speech rambles on toward Oscar, with the film's ensemble, Colin Firth (Best Actor), Helena Bonham Carter (Best Supporting Actress), and Aussie Geoffrey Rush (Best Supporting Actor) all scoring SAG nods.
Christian Bale received his expected Supporting nomination for The Fighter, but surprisingly, British Social Network star Andrew Garfield was snubbed. And SAG repeats the Globes' exclusion of Another Year's Lesley Manville in the Lead Actress race.
In the TV categories, Sir Patrick Stewart earned a nomination as Outstanding Performance by a Male Actor in a Television Movie or Miniseries for PBS' Macbeth. Fellow Brit and Emmy winner Julia Ormond is up for Best Actress in a TV Movie or Miniseries for HBO's Temple Grandin. (Her category pits her against co-stars Claire Danes and Catherine O'Hara.)
Hugh Laurie gets his standard Actor in a Drama mention.
17th ANNUAL SCREEN ACTORS GUILD AWARDS® NOMINATIONS
THEATRICAL MOTION PICTURES

Outstanding Performance by a Male Actor in a Leading Role
JEFF BRIDGES / Rooster Cogburn – "TRUE GRIT" (Paramount Pictures)
ROBERT DUVALL / Felix Bush – "GET LOW" (Sony Pictures Classics)
JESSE EISENBERG / Mark Zuckerberg – "THE SOCIAL NETWORK" (Columbia Pictures)
COLIN FIRTH / King George VI – "THE KING'S SPEECH" (The Weinstein Company)
JAMES FRANCO / Aron Ralston – "127 HOURS" (Fox Searchlight Pictures)
Outstanding Performance by a Female Actor in a Leading Role
ANNETTE BENING / Nic – "THE KIDS ARE ALL RIGHT" (Focus Features)
NICOLE KIDMAN / Becca – "RABBIT HOLE" (Lionsgate)
JENNIFER LAWRENCE / Ree Dolly – "WINTER'S BONE" (Roadside Attractions)
NATALIE PORTMAN / Nina Sayers – "BLACK SWAN" (Fox Searchlight Pictures)
HILARY SWANK / Betty Anne Waters – "CONVICTION" (Fox Searchlight Pictures)
Outstanding Performance by a Male Actor in a Supporting Role
CHRISTIAN BALE / Dicky Eklund – "THE FIGHTER" (Paramount Pictures)
JOHN HAWKES / Teardrop – "WINTER'S BONE" (Roadside Attractions)
JEREMY RENNER / James Coughlin – "THE TOWN" (Warner Bros. Pictures)
MARK RUFFALO / Paul – "THE KIDS ARE ALL RIGHT" (Focus Features)
GEOFFREY RUSH / Lionel Logue – "THE KING'S SPEECH" (The Weinstein Company)
Outstanding Performance by a Female Actor in a Supporting Role
AMY ADAMS / Charlene Fleming – "THE FIGHTER" (Paramount Pictures)
HELENA BONHAM CARTER / Queen Elizabeth – "THE KING'S SPEECH" (The Weinstein Company)
MILA KUNIS / Lily – "BLACK SWAN" (Fox Searchlight Pictures)
MELISSA LEO / Alice Ward – "THE FIGHTER" (Paramount Pictures)
HAILEE STEINFELD / Mattie Ross – "TRUE GRIT" (Paramount Pictures)
Outstanding Performance by a Cast in a Motion Picture
BLACK SWAN (Fox Searchlight Pictures)
VINCENT CASSEL / Thomas Leroy
BARBARA HERSHEY / Erica Sayers
MILA KUNIS / Lily
NATALIE PORTMAN / Nina Sayers
WINONA RYDER / Beth Macintyre
THE FIGHTER (Paramount Pictures)
AMY ADAMS / Charlene Fleming
CHRISTIAN BALE / Dicky Eklund
MELISSA LEO / Alice Ward
JACK MCGEE / George Ward
MARK WAHLBERG / Micky Ward
THE KIDS ARE ALL RIGHT (Focus Features)
ANNETTE BENING / Nic
JOSH HUTCHERSON / Laser
JULIANNE MOORE / Jules
MARK RUFFALO / Paul
MIA WASIKOWSKA / Joni
THE KING'S SPEECH (The Weinstein Company)
ANTHONY ANDREWS / Stanley Baldwin
HELENA BONHAM CARTER / Queen Elizabeth
JENNIFER EHLE / Myrtle Logue
COLIN FIRTH / King George VI
MICHAEL GAMBON / King George V
DEREK JACOBI / Archbishop Cosmo Lang
GUY PEARCE / King Edward VIII
GEOFFREY RUSH / Lionel Logue
TIMOTHY SPALL / Winston Churchill
THE SOCIAL NETWORK (Columbia Pictures)
JESSE EISENBERG / Mark Zuckerberg
ANDREW GARFIELD / Eduardo Saverin
ARMIE HAMMER / Cameron and Tyler Winklevoss
MAX MINGHELLA / Divya Narendra
JOSH PENCE / Tyler Winklevoss
JUSTIN TIMBERLAKE / Sean Parker
PRIMETIME TELEVISION
Outstanding Performance by a Male Actor in a Television Movie or Miniseries
JOHN GOODMAN / Neal Nicol – "YOU DON'T KNOW JACK" (HBO)
AL PACINO / Jack Kevorkian – "YOU DON'T KNOW JACK" (HBO)
DENNIS QUAID / Bill Clinton – "THE SPECIAL RELATIONSHIP" (HBO)
ÉDGAR RAMÍREZ / Ilich Ramírez Sánchez, aka 'Carlos' – "CARLOS" (Sundance Channel)
PATRICK STEWART / Macbeth – "MACBETH (GREAT PERFORMANCES)" (Thirteen/PBS)
Outstanding Performance by a Female Actor in a Television Movie or Miniseries
CLAIRE DANES / Temple Grandin – "TEMPLE GRANDIN" (HBO)
CATHERINE O'HARA / Aunt Ann – "TEMPLE GRANDIN" (HBO)
JULIA ORMOND / Eustacia Grandin – "TEMPLE GRANDIN" (HBO)
WINONA RYDER / Lois Wilson – "WHEN LOVE IS NOT ENOUGH: THE LOIS WILSON STORY" (CBS)
SUSAN SARANDON / Janet Good – "YOU DON'T KNOW JACK" (HBO)
Outstanding Performance by a Male Actor in a Drama Series
STEVE BUSCEMI / Nucky Thompson – "BOARDWALK EMPIRE" (HBO)
BRYAN CRANSTON / Walter White – "BREAKING BAD" (AMC)
MICHAEL C. HALL / Dexter Morgan – "DEXTER" (SHOWTIME)
JON HAMM / Don Draper – "MAD MEN" (AMC)
HUGH LAURIE / Dr. Gregory House – "HOUSE" (FOX)
Outstanding Performance by a Female Actor in a Drama Series
GLENN CLOSE / Patty Hewes – "DAMAGES" (FX)
MARISKA HARGITAY / Det. Olivia Benson – "LAW & ORDER: SPECIAL VICTIMS UNIT" (NBC)
JULIANNA MARGULIES / Alicia Florrick – "THE GOOD WIFE" (CBS)
ELISABETH MOSS / Peggy Olson – "MAD MEN" (AMC)
KYRA SEDGWICK / Dep. Chief Brenda Leigh Johnson – "THE CLOSER" (TNT)
Outstanding Performance by a Male Actor in a Comedy Series
ALEC BALDWIN / Jack Donaghy – "30 ROCK" (NBC)
TY BURRELL / Phil Dunphy – "MODERN FAMILY" (ABC)
STEVE CARELL / Michael Scott – "THE OFFICE" (NBC)
CHRIS COLFER / Kurt Hummel – "GLEE" (FOX)
ED O'NEILL / Jay Pritchett – "MODERN FAMILY" (ABC)
Outstanding Performance by a Female Actor in a Comedy Series
EDIE FALCO / Jackie Peyton – "NURSE JACKIE" (Showtime)
TINA FEY / Liz Lemon  – "30 ROCK" (NBC)
JANE LYNCH / Sue Sylvester – "GLEE" (FOX)
SOFIA VERGARA / Gloria Delgado-Pritchett – "MODERN FAMILY" (ABC)
BETTY WHITE / Elka Ostrovsky – "HOT IN CLEVELAND" (TV Land)
Outstanding Performance by an Ensemble in a Drama Series
BOARDWALK EMPIRE (HBO)
STEVE BUSCEMI / Nucky Thompson
DABNEY COLEMAN / Commodore Louis Kaestner
PAZ DE LA HUERTA / Lucy Danzinger
STEPHEN GRAHAM / Al Capone
ANTHONY LACIURA / Eddie Kessler
KELLY MACDONALD / Margaret Schroeder
GRETCHEN MOL / Gillian Darmody
ALESKA PALLADINO / Angela Darmody
VINCENT PIAZZA / Lucky Luciano
MICHAEL PITT / Jimmy Darmody
MICHAEL SHANNON / Agent Nelson Van Alden
PAUL SPARKS / Mickey Doyle
MICHAEL STUHLBARG / Arnold Rothstein
SHEA WHIGHAM / Sheriff Elias Thompson
THE CLOSER (TNT)
G.W. BAILEY / Det. Lt. Provenza
MICHAEL PAUL CHAN / Lt. Mike Tao
RAYMOND CRUZ / Det. Julio Sanchez
JONATHAN DEL ARCO / Dr. Morales
TONY DENISON / Lt. Andy Flynn
ROBERT GOSSETT / Commander Taylor
PHILLIP P. KEENE / Buzz
COREY REYNOLDS / Sgt. David Gabriel
KYRA SEDGWICK / Dep. Chief Brenda Leigh Johnson
J.K. SIMMONS / Asst. Police Chief Will Pope
JON TENNEY / FBI Special Agent Fritz Howard
DEXTER (Showtime)
JENNIFER CARPENTER / Debra Morgan
APRIL HERNANDEZ CASTILLO / Cira
MICHAEL C. HALL / Dexter Morgan
DESMOND HARRINGTON / Joey Quinn
MARIA DOYLE KENNEDY / Sonya
C.S. LEE / Vince Masuka
JONNY LEE MILLER / Jordan Chase
JAMES REMAR / Harry Morgan
JULIA STILES / Lumen Pierce
LAUREN VELEZ / Lt. Maria Laguerta
PETER WELLER / Liddy
DAVID ZAYAS / Sgt. Angel Batista
THE GOOD WIFE (CBS)
CHRISTINE BARANSKI / Diane Lockhart
JOSH CHARLES / Will Gardner
ALAN CUMMING / Eli Gold
MATT CZUCHRY / Cary Agos
JULIANNA MARGULIES / Alicia Florrick
ARCHIE PANJABI / Kalinda Sharma
GRAHAM PHILLIPS / Zach Florrick
MAKENZIE VEGA / Grace Florrick
MAD MEN (AMC)
CARA BUONO / Faye Miller
JON HAMM / Don Draper
JARED HARRIS / Lane Pryce
CHRISTINA HENDRICKS / Joan Harris
JANUARY JONES / Betty Francis (Draper)
VINCENT KARTHEISER / Pete Campbell
MATT LONG / Joey Baird
ROBERT MORSE / Bert Cooper
ELISABETH MOSS / Peggy Olson
JESSICA PARÉ / Megan Calvet
KIERNAN SHIPKA / Sally Draper
JOHN SLATTERY / Roger Sterling
RICH SOMMER / Harry Crane
CHRISTOPHER STANLEY / Henry Francis
AARON STATON / Ken Cosgrove
Outstanding Performance by an Ensemble in a Comedy Series
30 ROCK (NBC)
SCOTT ADSIT / Pete Hornberger
ALEC BALDWIN / Jack Donaghy
KATRINA BOWDEN / Cerie
KEVIN BROWN / Dotcom
GRIZZ CHAPMAN / Grizz
TINA FEY / Liz Lemon
JUDAH FRIEDLANDER / Frank Rossitano
JANE KRAKOWSKI / Jenna Maroney
JOHN LUTZ / Lutz
JACK MCBRAYER / Kenneth Parcell
TRACY MORGAN / Tracy Jordan
MAULIK PANCHOLY / Jonathan
KEITH POWELL / Toofer
GLEE (FOX)
MAX ADLER / Dave Karofsky
DIANNA AGRON / Quinn Fabray
CHRIS COLFER / Kurt Hummel
JANE LYNCH / Sue Sylvester
JAYMA MAYS / Emma Pillsbury
KEVIN MCHALE / Arty Abrams
LEA MICHELE / Rachel Berry
CORY MONTEITH / Finn Hudson
HEATHER MORRIS / Brittany Pierce
MATTHEW MORRISON / Will Schuester
MIKE O'MALLEY / Burt Hummel
AMBER RILEY / Mercedes
NAYA RIVERA / Santana Lopez
MARK SALLING / Noah 'Puck' Puckerman
HARRY SHUM JR. / Mike Chang
IQBAL THEBA / Principal Figgins
JENNA USHKOWITZ / Tina
HOT IN CLEVELAND (TV Land)
VALERIE BERTINELLI / Melanie Moretti
JANE LEEVES / Joy Scroggs
WENDIE MALICK / Victoria Chase
BETTY WHITE / Elka Ostrovsky
MODERN FAMILY (ABC)
JULIE BOWEN / Claire Dunphy
TY BURRELL / Phil Dunphy
JESSE TYLER FERGUSON / Mitchell Pritchett
NOLAN GOULD / Luke Dunphy
SARAH HYLAND / Haley Dunphy
ED O'NEILL / Jay Pritchett
RICO RODRIGUEZ / Manny Delgado
ERIC STONESTREET / Cameron Tucker
SOFIA VERGARA / Gloria Delgado-Pritchett
ARIEL WINTER / Alex Dunphy
THE OFFICE (NBC)
LESLIE DAVID BAKER / Stanley Hudson
BRIAN BAUMGARTNER / Kevin Malone
CREED BRATTON / Creed Bratton
STEVE CARELL / Michael Scott
JENNA FISCHER / Pam Beesly Halpert
KATE FLANNERY / Meredith Palmer
ED HELMS / Andy Bernard
MINDY KALING / Kelly Kapoor
ELLIE KEMPER / Erin Hannon
ANGELA KINSEY / Angela Martin
JOHN KRASINSKI / Jim Halpert
PAUL LIEBERSTEIN / Toby Flenderson
B.J. NOVAK / Ryan Howard
OSCAR NUÑEZ / Oscar Martinez
CRAIG ROBINSON / Daryll Philbin
PHYLLIS SMITH / Phyllis Lapin-Vance
RAINN WILSON / Dwight Schrute
ZACH WOODS / Gabe Lewis
SAG HONORS FOR STUNT ENSEMBLES
Outstanding Performance by a Stunt Ensemble in a Motion Picture
GREEN ZONE (Universal Pictures)
INCEPTION (Warner Bros. Pictures)
ROBIN HOOD (Universal Pictures)
Outstanding Performance by a Stunt Ensemble in a Television Series
BURN NOTICE (USA)
CSI: NY (CBS)
DEXTER (SHOWTIME)
SOUTHLAND (TNT)
TRUE BLOOD (HBO)

LIFE ACHIEVEMENT AWARD

Screen Actors Guild Awards 47th Annual Life Achievement Award
Ernest Borgnine
Read More
Filed Under: